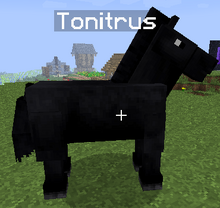 Tonitrus is a Black Steedfleet horse and the first of 2 legendary horse to make an appearance.
Horse Info:
Edit
Date born: Unknown
Status: Alive
Mates: Fulgetra
Parents: Unknown
Siblings: None
Current Owners: Kentela, Lady
Past Owners: Raster
Horse History
Edit
Tonitrus was the mount of Raster.
"Tonitrus" is Thunder in Latin.
Tonitrus was part of the second world event called "Tonitrus and Fulgetra" where players had to search for the coupled horses.
Tonitrus is mentioned in Chapter 6.
Ad blocker interference detected!
Wikia is a free-to-use site that makes money from advertising. We have a modified experience for viewers using ad blockers

Wikia is not accessible if you've made further modifications. Remove the custom ad blocker rule(s) and the page will load as expected.